President Mike Packard called the meeting to order at 12:00 pm on October 31, thanked everyone for attending and asked everyone to introduce themselves.  He then introduced the speaker, Tara Lucas the Safe Routes To School Coordinator from the HDOT Highways Division.
Ms. Lucas started by announcing the instructions for the Halloween costume contest, in which everyone present was to vote for their favorite costume by placing a piece of candy in a small brown paper bag associated with the person wearing the costume.  She then presented the goals of the Safe Routes to School (SRTS) program, and the five "E"s – Engineering, Enforcement, Education, Encouragement, and Evaluation.  She concentrated much of the first part of her presentation on engineering as most of the people in the room were engineers or planners.  She noted that although SAFETEA-LU expired on September 30 of this year, the State still had about $5 million in SRTS funding that had not yet been spent.  She said that a third call for projects would be issued soon, and discussed some of the challenges of the program, including that the awardees must have experience in completing capital improvement projects of this type and must be able to pay project costs up front and wait to be reimbursed through the program.  She then took several questions from the audience.  Finally, she announced the winner of the costume contest to be Steven Yoshida who was dressed as Batman.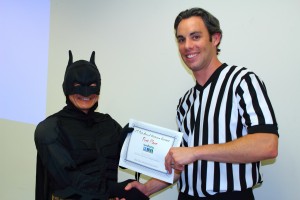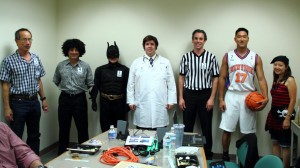 The meeting adjourned at 12:52 pm.