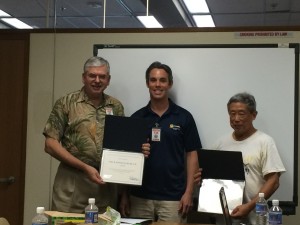 President Packard presented ITE Life Member Awards to Wes Frysztacki and Warren Yamamoto, for being ITE members for over 25 years, and reaching the age of 65 years old.
Western District Secretary-Treasurer Leong announced that District Elections are coming up, and ballots will be emailed to members.
Vice-President Gibson introduced speakers Brian Lock (Engineer, Wilson Okamoto), Eric Matsumoto (Structural Engineer, KSF, Inc.), and Laura Mau (Planner, Wilson Okamoto), to speak about this bridge he saw and wondered, why does it look upside-down?
Brian Lock spoke about the Honoapiilani Highway Realignment, Phase 1A as being a Design-Build project intending to alleviate traffic congestion along the Highway associated with the Lahainaluna school complex.
Lauren talked about the unexpected archaeological sites that were discovered just prior to construction, and shared the lessons learned from the community consultation. She found that the consultation process drove the project direction, that transparency of the DOT/FHWA participation was important, and even though she was reluctant at first, she found personal perspective in human equity from the passion of the community for stewarding.
Eric explained the design of the 360-foot Kahoma Bridge, a post-tension, inverted arch design structure that is under the travel-way and therefore does not obstruct the views.  This design utilized friction pendulum into foundation bearings, and enabled the spanning of the stream with minimal impact, and included a 1200' radius curve.